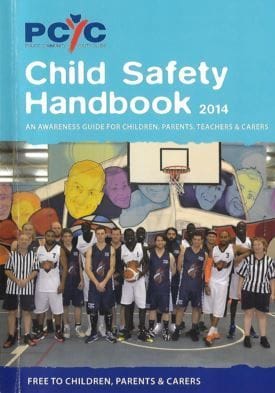 The Tasmanian Association of PCYC Inc. has completed the publication of 2015 edition of the Child Safety Handbook.
Receive Your Free Copy Today by Clicking the Handbook Graphic above or this link.
The Handbook is an awareness guide for children, parents, teachers and carers that provides up-to-date information on a range of issue facing young people in our community including personal safety, health and nutrition, bullying and cyber bullying, road safety as well as drug and alcohol awareness.
Ongoing support from individuals, community organisations, the private and corporate sectors, and the Tasmanian Government allows PCYC to provide the Handbook free of charge to all Grade. 6 students state-wide.
Funds raised from the Child Safety Handbook go to supporting PCYC Clubs to provide affordable, positive sporting, social and recreational opportunities to all Tasmanians and to deliver targeted support and programs to disadvantaged and at-risk youth and their families.
PCYC Tasmania is offering advertising space in this upcoming edition of the Child Safety Handbook at fantastic prices that include you advert appearing on our website and direct marketing of your message to our 6000+ members across Tasmania.
If you would like to find our more about placing an advertisement for the 2016 edition, please contact the State Association.
Alternatively, to make a donation towards the 2016 edition of the Child Safety Handbook please clink the link provided.
Your support is much appreciated. Thank you!