Clarence PCYC Programs
Improve your health, tone your muscles, become more balanced physically and mentally, increase flexibility and relieve your stress. All levels are welcome.
The Clarence PCYC has a diverse range of activities to suit all age groups no matter what your fitness level. With qualified instructors trained to work with your requirements in mind, you can feel rest assured that consideration will be given to your particular circumstances.
Please ensure that when attending in fitness activity that you wear clothes that allow you to stretch and move freely.
Toddlers
Playgroup
Time Wednesdays 9.30am - 11.30am
Contact Megan 0417 366 870.
Cost $3 per family
Seniors
Fitball
Time: Monday 11.30am to 12.30pm
Instructor: Jo Elliott
Contact 0437242024
Cost: $8.00

Senior Fitness
Times: Monday 8am - 9am and 12.30pm - 1.30pm
Tuesday 3 sessions available 8am - 9am, 9am - 10am and 10am - 11am
Wednesday 8am - 9am
Thursday 8am - 9am
Friday 4 sessions available 8am - 9am, 9am - 10am, 10.30am - 11.30am and 12.30pm - 1.30pm
Instructor: Jo Elliott
Contact: 0437242024
Cost $6
Fitness
Personal Trainers

Jo Elliott 0437242024


Sports
Badminton

For fun and fitness!
Thursdays from 10.00 am - 12.00 pm.
Open to all age groups.

Cost: $2 PCYC Members
$4 Non-Members
Indoor Hockey

Suitable for ages 16+

Monday 7.30pm - 8.30pm

Also known as "Unihoc", indoor hockey is a fast paced, enjoyable variation of outdoor hockey which uses plastic sticks and a plastic ball.

All equipment supplied.
Cost $2

Wear athletic clothes and sneakers.
For further information call Allan Walsh on 0422 904 045


Martial Arts
Aikido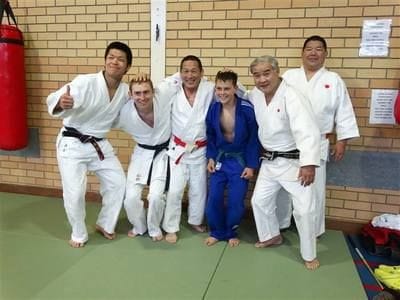 Time Mondays 5.30pm to 7.30pm

Instructor Bruce Stack
Contact 62449219
Cost $4
Huang Sou Do (Karate)
Time Tuesdays 6pm - 7.30pm Fridays 6.00pm - 7.30pm

Instructor Shane Burton
Contact 0423169921
Cost $6

Brazilian Jui Jitsu (BJJ)
Junior Kids: Thursdays 3.30 - 4.15pm
Senior Kids 16+: Thursdays 4.15 - 5.15pm
Ladies: Saturdays 3pm - 4.30pm
General class Tuesdays 7.30pm - 9.30pm
Thursdays 7.30pm - 9.30pm
Saturdays 4.30pm - 6pm

Instructor Paul Sayers
Contact 0423 238 101
Judo

Monday 4.00pm - 5.30pm
Wednesday 5.30pm to 7.30pm

Instructor Will Summers 0409 968 943.
Cost $5
Kyokushin Karate
Thursday 5.45pm - 7.15pm Saturday 10.00am - 12md
Hall Hire & Jumping Castle
Hall hire available for kids parties. Minimum hire fee is $75 for members $100 for non-members plus a $100 deposit (up to 3 hours depending on availability.)
$150 for members $200 non members

$100 deposit.

Any hall hire exceeding 3 hours will be $25 per hour extra for jumping castle.